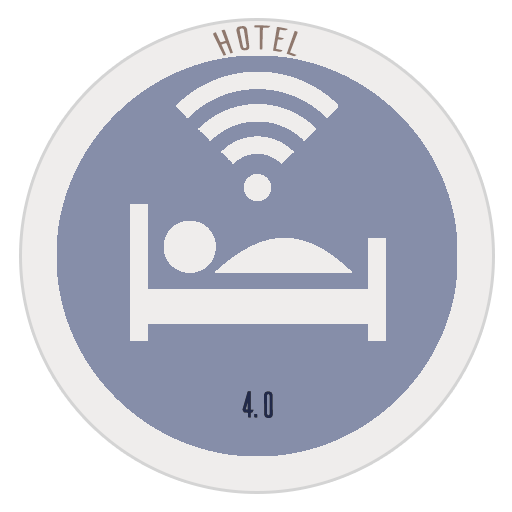 D. Budgets
Analysis Y&R Management – Budget Style USALI
To speak of USALI, was understood as part of the Accounting, this way of thinking accompanied us during years (1990-2018), even in the conferences that on the matter (USALI) we have had to give, because well it has taken an important qualitative leap, it is no longer so, in our SHMS, an automatic and daily module of emission has been added for the budgetary control of the income to the purest style of the formats USALI.
It is reinforced with a series of accounting reports for better monitoring of them, just as the option is given that the main report instead of daily is weekly (for example every Monday).
This USALI-style balance is generated daily in the Hotel program and sent to the Management and Finance departments fully automatically so that they can make and take the pertinent measures.
This example even contemplates options for hotels that have TS Time Sharing, the concepts of income are grouped as each hotel sees fit, always in 3 large groups "Room Sales", "F&B" and "Others".
In the generators, in addition to the classic USALI, in the same format can be done for a budgetary follow-up of Rates, Channels, Segments, Client Type, Room Type, Regime, Channels Group, Segments Group and Rate Profile. What does it mean?, that our directors of Operations, Revenue, …, can make their strategic follow-ups that they consider opportune for a better control of their functions?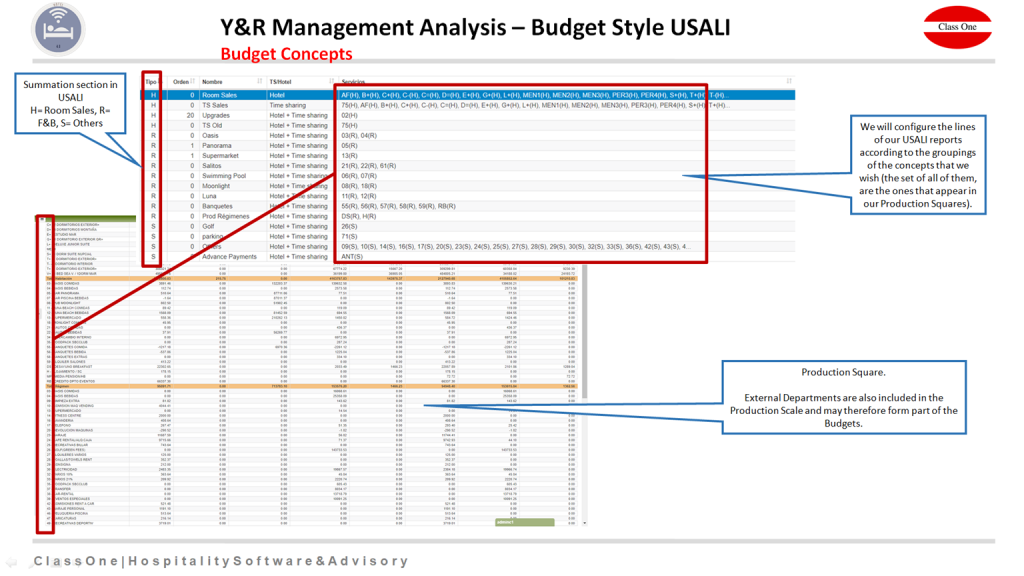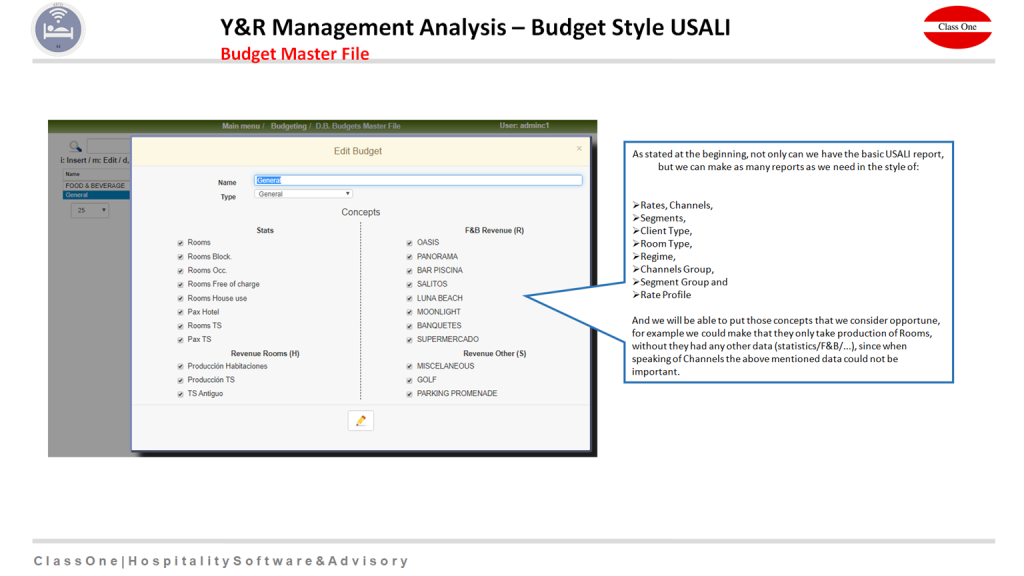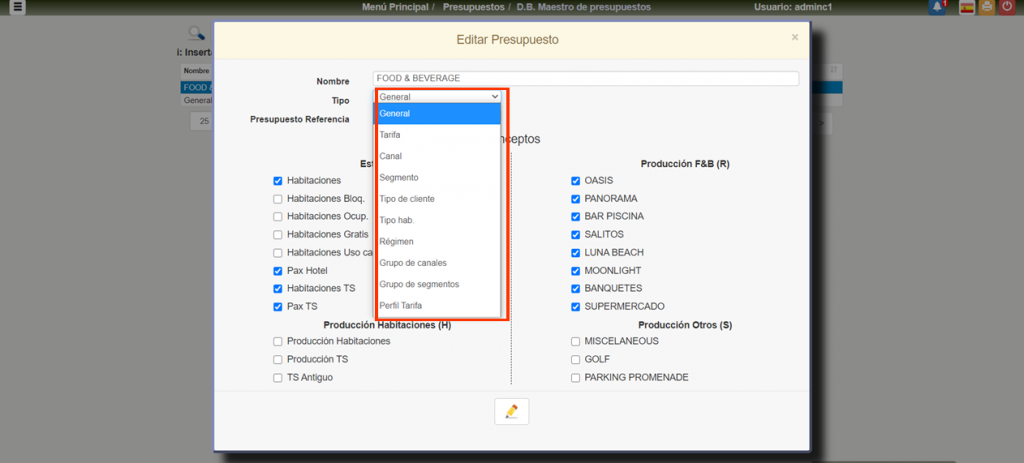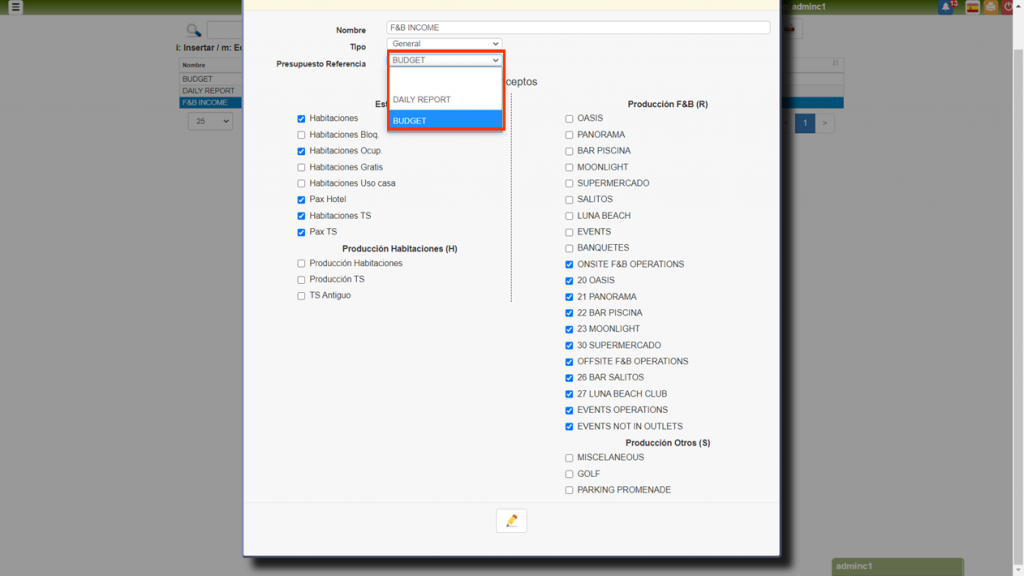 1. Budget Generation

 
Once the "masters" have been defined, the next step is the generation of the budget.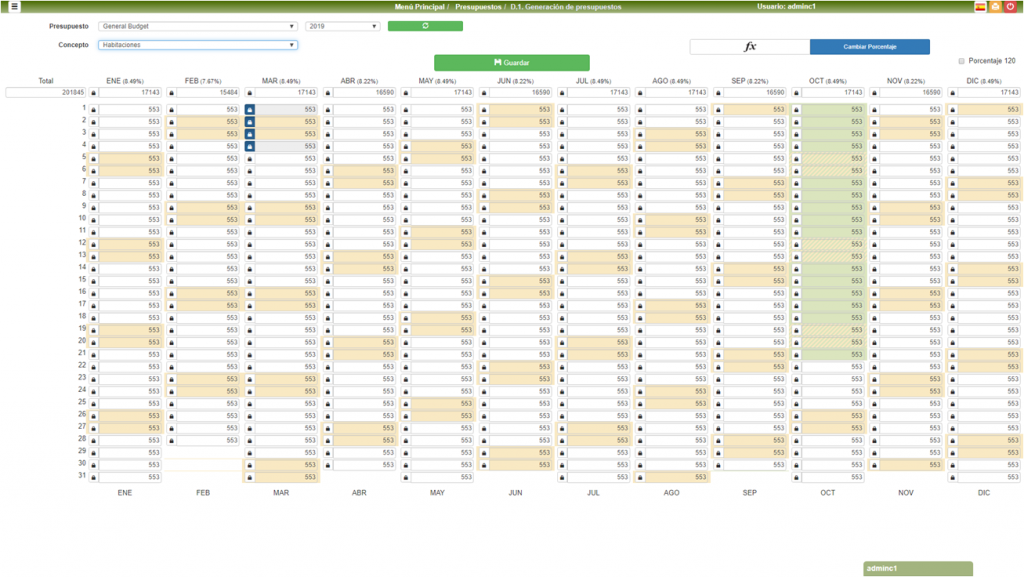 It can be indicate an annual budget and the system automatically distributes it to us monthly and in turn daily.
We can modify a month, days, …, put padlocks (that the amount that is in that box is not modified even if a higher level is modified).
Change an amount or a budget and recalculate the month, year, (without touching amounts padlock),
Be Make the monthly percentages based on 120 and not based on 100, …
Generate budgets for future years, past, …
See the results and change again (SIMULATIONS)
3. Daily Report
Example of a Daily Report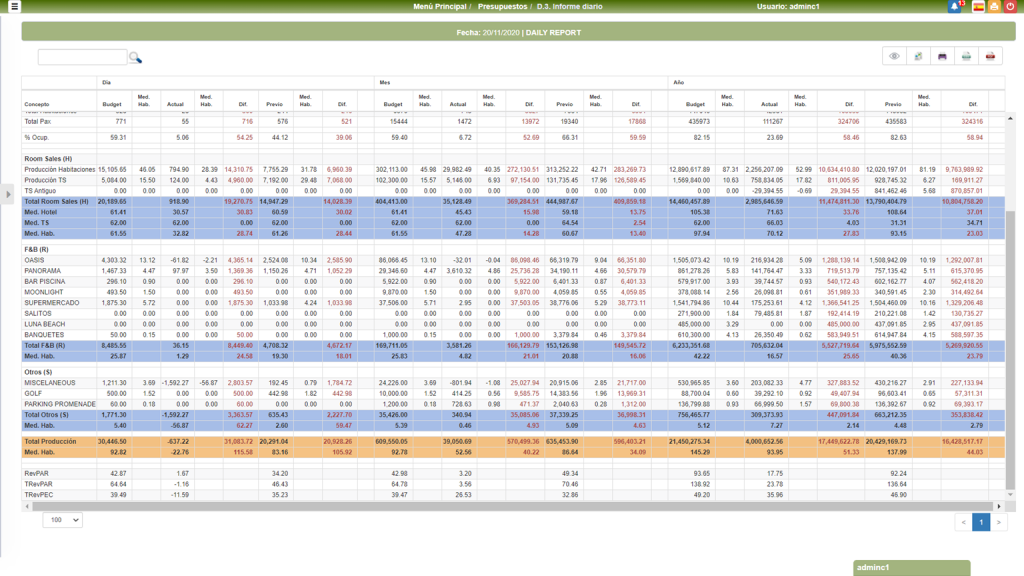 The reports may vary according to the activated bullets. To issue in correct "pdf" format, use the button located at the bottom of the selector.

4. Weekly Report
Example of a Weekly Report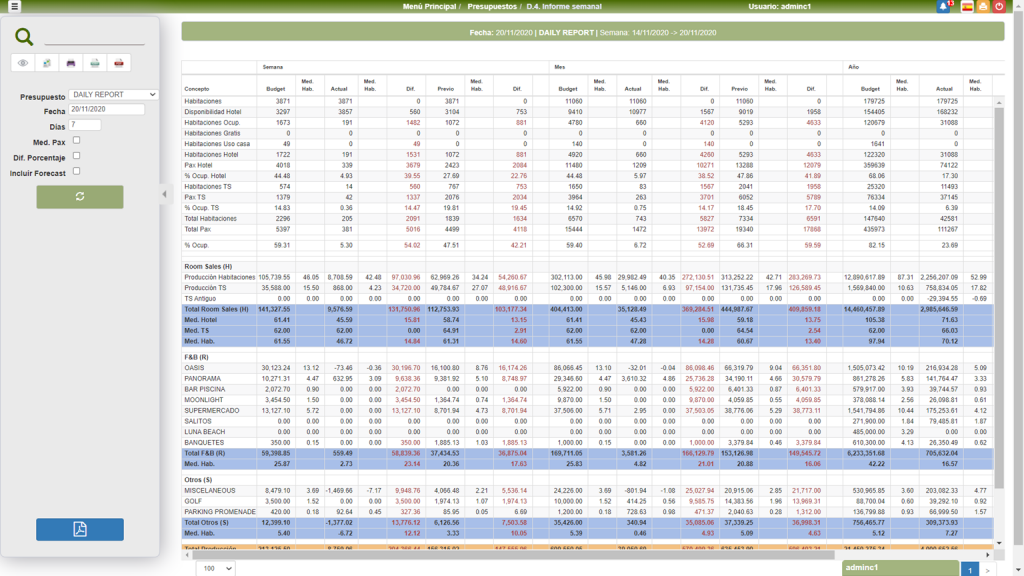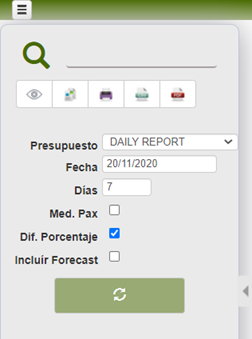 Reports may vary depending on the activated bullets
C. Monthly Report

 
Example of a Monthly Report
You can make a comparison: We can compare the Budget with the Real, with the Previous Year, or with the Budget of the previous year. These options are very useful when we are setting up the budgets for the following year:
Forecast lines can be added as is the case in this example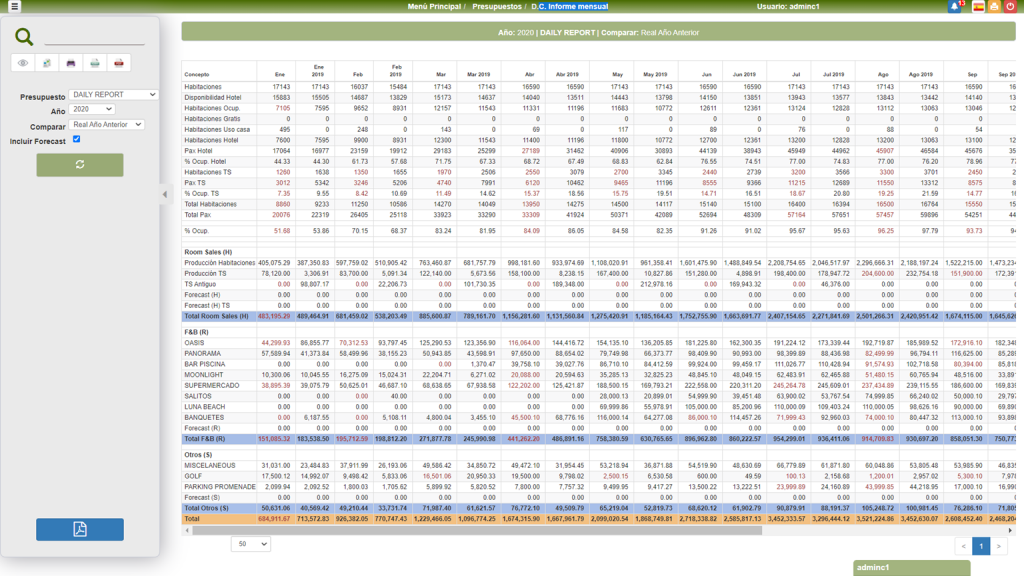 D. Budget Charts

 
We can take different graphics according to our needs and according to the different parameters that we have for budgets.
G. Budget sending task configuration
We can have the different estimates sent automatically, having in this case its own task generator, this generator will be executed according to the Task Scheduler (
B.7. Task Scheduler. Send Budgets
)
Recalculations
7. Recalculation of budget actual values
8. Recalculation of budget breakdowns
9. Recalculation from reference
At any time we can recalculate the Budgets